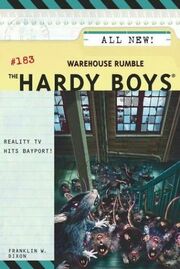 __WIKIA_BANNER__

Warehouse Rumble is the 183rd book in The Hardy Boys series. It was first published in February 2004 by Aladdin Paperbacks (an imprint of Simon & Schuster).
Back cover summary
Trouble on the set!
A reality-based game show called Warehouse Rumble has come to Bayport, and Frank and Joe Hardy are hoping to be among the first contestants. But when someone finds a skeleton on the set, production comes to a screeching halt.
Once filming can begin again, the show is plagued with problems -- and the Hardys and their friends are doing so well that jealous competitors start to blame them for all the trouble. Frank and Joe are suddenly on double duty. They have to convince their fellow contestants that they're playing a clean game, and solve the mystery so the show can go on! [2]
Appearances
Characters
Locations
to be added.
Businesses and organizations
to be added.
Other
to be added.
References
Ad blocker interference detected!
Wikia is a free-to-use site that makes money from advertising. We have a modified experience for viewers using ad blockers

Wikia is not accessible if you've made further modifications. Remove the custom ad blocker rule(s) and the page will load as expected.