For the original version of this book, see The Tower Treasure (original text)
__WIKIA_BANNER__

The Tower Treasure is the first book in The Hardy Boys original series. It was first published in 1927 by Grosset & Dunlap, and updated and revised in 1959.
Plot summary
Tower Mansion has been robbed of forty thousand dollars in securities and jewels and Hurd Applegate, the crotchety old owner of the mansion, is certain that Henry Robinson, his caretaker, is responsible. Henry, however, is the father of one of Frank and Joe Hardy's closest school chums and they are convinced of his innocence. Their father Fenton has taken on the case and they follow him all the way to New York to uncover the real crook, John Jackley. Finding him, however, is only half the problem as he dies in custody and the Hardys must still find the stolen valuables to clear Robinson's name and solve their first case, and follow in their dad's footsteps.
Appearances
Characters
Locations
Businesses and organizations
Other
Video Games
Illustrations
Foreign Editions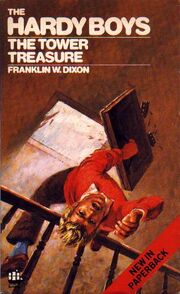 While the original text of The Tower Treasure had been published in 1951 by Harold Hill as the 5th book released that year, the revised text of The Tower Treasure would not be published until 1974, as the first book released that year by Collins, but as the 31st book released in the Collins series. In 1982 Collins reissued The Tower Treasure under its paperback children's imprint, Armada with the same cover art that was used on the 1974 hardcover edition. Sometime between 1987 and 1991 The Tower Treasure was reissued with new artwork by Armada in paperback.
References
↑ Who Wrote the Hardy Boys? at keeline.com
External links
Ad blocker interference detected!
Wikia is a free-to-use site that makes money from advertising. We have a modified experience for viewers using ad blockers

Wikia is not accessible if you've made further modifications. Remove the custom ad blocker rule(s) and the page will load as expected.