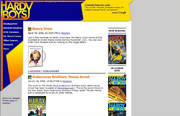 The Hardy Boys Encyclopedia, is a website owned and run by Hardy Boys fan SkyWarp. Founded in 1998,[1] the site originally covered The Hardy Boys Casefiles series, exclusively, but has since expanded to include the Casefiles spin-offs, and all the Undercover Brothers media.
The site is also known as The Hardy Boys Casefiles Encyclopedia, SkyWarp's Hardy Boys Casefiles Encyclopedia, or SkyWarp's Casefiles Encyclopedia.
Mr. Pizza's Forum
Originally called "The Network" after the crime-fighting agency of the same name from the Casefiles, Mr. Pizza's Forum is The Hardy Boys Encyclopedia's message board. MPF (as it is referred to by it's members), home to a small but thriving community of over 100 members, is powered by Simple Machines Forum.[2]
References
↑ About this site and SkyWarp at The Hardy Boys Encyclopedia.
External links
Ad blocker interference detected!
Wikia is a free-to-use site that makes money from advertising. We have a modified experience for viewers using ad blockers

Wikia is not accessible if you've made further modifications. Remove the custom ad blocker rule(s) and the page will load as expected.