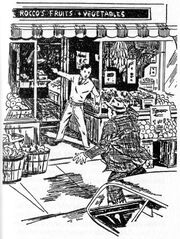 Rocco's fruit store in Bayport is run by Mr. Rocco. It stays open until nine each night and sometimes Frank and Joe Hardy help out there. Oscar Smuff lives only a block away and is a regular customer of the shop, although he is often quite offensive to Mr. Rocco.[1]
Appearances
References
↑ The Hardy Boys #1 The Tower Treasure (1959) p110
Ad blocker interference detected!
Wikia is a free-to-use site that makes money from advertising. We have a modified experience for viewers using ad blockers

Wikia is not accessible if you've made further modifications. Remove the custom ad blocker rule(s) and the page will load as expected.