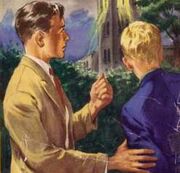 The Original continuity is the first Hardy Boys and, until 1987, the only (not including the TV shows) continuity. It begins with Frank and Joe Hardy, following in their detective father's footsteps by solving their first case, in The Hardy Boys #1 The Tower Treasure and ends with the Hardy brothers, now well known amateur detectives, themselves, in The Hardy Boys #190 Motocross Madness.
The Orginal continuity, is by far, the longest running Hardy Boys continuity. In 2005 when the last book was published, it was 78 years old. Included in this continuity is The Hardy Boys series (Original/Digest), and it's various spin-offs, such as The Hardy Boys Detective Handbook, The Hardy Boys Handbook: Seven Stories of Survival, the two Nancy Drew and the Hardy Boys Super Sleuths! volumes, Nancy Drew and the Hardy Boys Campfire Stories, and The Hardy Boys Ghost Stories. Some would also say that The Hardy Boys are: The Clues Brothers, and the Nancy Drew and the Hardy Boys Be a Detective Mystery Story series, are also part of the continuity.
List of titles
See also
Ad blocker interference detected!
Wikia is a free-to-use site that makes money from advertising. We have a modified experience for viewers using ad blockers

Wikia is not accessible if you've made further modifications. Remove the custom ad blocker rule(s) and the page will load as expected.