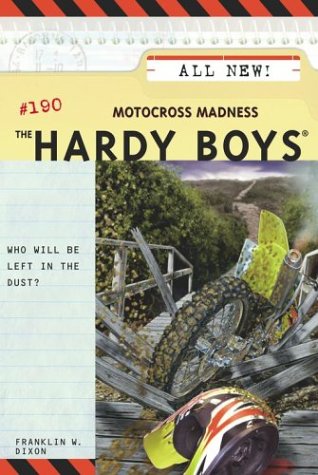 __WIKIA_BANNER__
"Who will be left in the dust?"
— Tag-line, from front cover.
Motocross Madness is the 190th and final book in The Hardy Boys series. This the, the last title, was published in April 2005 by Aladdin Paperbacks (an imprint of Simon & Schuster), almost 78 years after the first three Hardy Boys titles were published in May 1927 by Grosset & Dunlap.
Back cover summary
Frank and Joe get revved up to race for their lives!
The Hardy boys and their friend Jamal are thrilled to be participating in a motorcycle exhibition. It's going to be an exciting weekend, with many talented cyclists heating up the competition and a valuable prize for the winner -- a classic motorcycle! But when burglaries and suspicious accidents send the benefit skidding out of control, Frank and Joe find themselves racing to crack another case. As the Hardys make their way through the long list of possible saboteurs, danger gains on them. Can they cut the criminal off before the finish line, or is this race speeding toward disaster?
Appearances
Characters
Locations
to be added.
Business and organizations
to be added.
References
Ad blocker interference detected!
Wikia is a free-to-use site that makes money from advertising. We have a modified experience for viewers using ad blockers

Wikia is not accessible if you've made further modifications. Remove the custom ad blocker rule(s) and the page will load as expected.