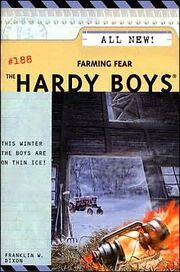 __WIKIA_BANNER__

Farming Fear is the 188th book in The Hardy Boys series. It was first published in December 2004 by Aladdin Paperbacks (an imprint of Simon & Schuster).
Plot summary
It's winter in Bayport, but things are heating up at the Morton family farm. It looks like someone is wreaking havoc with the property, and Chet and Iola Morton are worried that their grandparents are in danger of losing it! With their parents out of reach, the Mortons call on Frank and Joe Hardy for help. They need to figure out who's behind the trouble -- and fast. The Hardys are hot on the trail, but the Mortons' grandparents do something unexpected -- and the boys are stopped in their tracks. Can Frank and Joe plow through this mystery before the farm is snowed under?[2]
Appearances
Characters
Locations
to be added.
Businesses and organizations
to be added.
Other
to be added.
References
Ad blocker interference detected!
Wikia is a free-to-use site that makes money from advertising. We have a modified experience for viewers using ad blockers

Wikia is not accessible if you've made further modifications. Remove the custom ad blocker rule(s) and the page will load as expected.