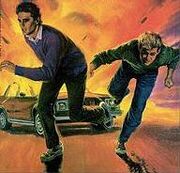 The Casefiles continuity is the second Hardy Boys continuity. In this continuity Joe's girlfriend, Iola Morton, is killed in a tragic car bombing, planted by The Assassins and Frank and Joe Hardy, working sometimes with ultra secret spy organization the Network and sometimes by themselves, fight the biggest criminal organizations in the world.
List of titles
1. Time Bomb
See also
Ad blocker interference detected!
Wikia is a free-to-use site that makes money from advertising. We have a modified experience for viewers using ad blockers

Wikia is not accessible if you've made further modifications. Remove the custom ad blocker rule(s) and the page will load as expected.